Cooking With Chicken Seasoning!
May 2-4 Weekend Is Here!
Well, May 2-4 is upon us, and for anyone who knows me, I love to camp. But with the pandemic, that isn't possible right now. So, I hope everyone is staying safe, and enjoying the weekend as best as they can.
Weather has been good all weekend, could have been a little warmer as I was hoping to fry up a meal of trout on the BBQ to get this weekend going the best I can. But, the cold temperatures mixed with the Northerly winds made sure that wasn't going to happen just yet, so that means instead of trout, we get chicken! I figured this time instead of doing a normal butterfly chicken in the oven, I would cook it on the bbq instead. Any excuse I can use to turn on the bbq, I will.
So with that decided, it's time to get cooking.
The first thing you want to do, is to butterfly your chicken, because this is the best, and most tasty way to cook a chicken, change my mind! If you aren't familiar with butterflying a chicken, it's a very simply process. You de-bone the chicken. The actual name for this is spatchcock. Below, in the video posted, you can see how this is done. You basically flip the bird (heh) onto its belly, breast side down. Then, with a sharp knife, or even easier, a good pair of kitchen shears, you cut the spine out of the chicken. Once you do that, you flip the bird back over, and push down on the breast bone to flatten the chicken out.
Now comes the seasoning part. For this, we are going to use our Organic Chicken Seasoning, the easiest way to make a great tasting chicken. This blend is salt free, so if you want to add salt to your chicken, then go ahead. I added a tiny bit of coarse sea salt, *SHAMELESS PLUG WARNING*, from our upcoming specialty salt line that we will be launching soon, so stay tuned for that!
Take your favorite bottle of top shelf Olive Oil, and slather the whole chicken. Next, take the Organic Chicken Seasoning and cover the chicken, make sure to get in every nook and cranny, you want the chicken fully seasoned. Then, for the optional part, add your salt. And then you get something that looks like this:
Seasoned To Perfection!
Now, get your grill heated up. You want the internal temp of the bbq around 350 degree's F. I achieved this by putting all my burners on the lowest setting possible, as I want uniform heat throughout the cooking process. I have a gauge on the top of mine with the needle in between 300-400 degrees F. You just want to make sure you you do not burn the chicken, while trying to heat the chicken to 165 degrees internally. If you do not have a gauge on top of your bbq for temperature, you can take a meat thermometer, preferably digital, and put it in through a small opening under the bbq lid, and get your reading that way.
You want the internal temp of the bbq around 350 degree's F
I also had to put an aluminum tray under the bbq grate to catch the drippings from the chicken. If not, you're going to have quite the nice bon fire going in your bbq. I picked one up at the nearest dollar store, doesn't need to be anything fancy. You just need something to catch the drippings.
Go ahead and put your chicken on the bbq (I put mine right in the center of the bbq), close that sucker up, sit back and relax with your favorite book (or drink, we don't judge around here), and wait 50-60 minutes for Mr.Chicken to be cooked!
About halfway through (mainly because I was so lost in my book, and forgot the time), check on your chicken to make sure there is no burning.
Looking good so far. Close the lid, and let the bbq do the rest.
Just keep checking to see if the internal temperature of the chicken hits 165 degrees Fahrenheit. That is the temperature for which chicken is cooked. Also, this will be incredibly juicy, so try and use the same spot for checking the chicken, as you don't want all the juices to flow out.
Done! After 55 minutes, the chicken was cooked. Came out with a nice, crispy skin, and the meat is incredibly juicy and tender.
At this point, the chicken was covered under foil to keep it warm. Now to cut up the vegetables.
I normally do a saute in the frying pan for any meat that I cook, but I wanted to do something different. I wanted to cook them differently this time, and you guessed it, using the bbq. (I love you bbq, you're the best)
While out shopping this weekend, I decided to pick up a pack of the grilling mats. This was probably the best $4 I spent at dollarama yet.
Grilled vegetables on the bbq are fantastic, and these things are great for different meats, fish, and whatever you don't want to fall down between the grates.
Just cut up your favorite mixture of vegetables, mine usually involve:
Peppers
Onions
Mushrooms
Sometimes I will add in carrot as well, since it's amazing on the bbq. Just toss all your cut up vegetables in your favorite mixing bowl, then add some olive oil, enough to coat the vegetables, you don't want to go overboard with it. Then add in the seasonings. I used the following spices:
Organic Cayenne Pepper
Organic Smoked Paprika
Organic Garlic Granulates
Organic Whole Black Peppercorn
Organic Whole Basil
Organic Oregano
There are no specific measurements to this, you just want to add to your own personal taste. Make sure you always start off with a small amount of spices, and add to taste. Remember, you can always add, but you can't subtract. The picture on the right is the first time using the mat, and testing out our new Seasoned Salt, and the Smoked Bourbon Barrel Flaked Salt. Sooo good! These are in the process of being added to the store.
I turned the bbq on the highest heat possible, and closed the lid. Every couple of minutes I would check on this and flip with a pair of tongs, to mix it up, and make sure it don't burn. This cooks very quickly, matter of minutes. So cook to personal preference.
Here is the final result: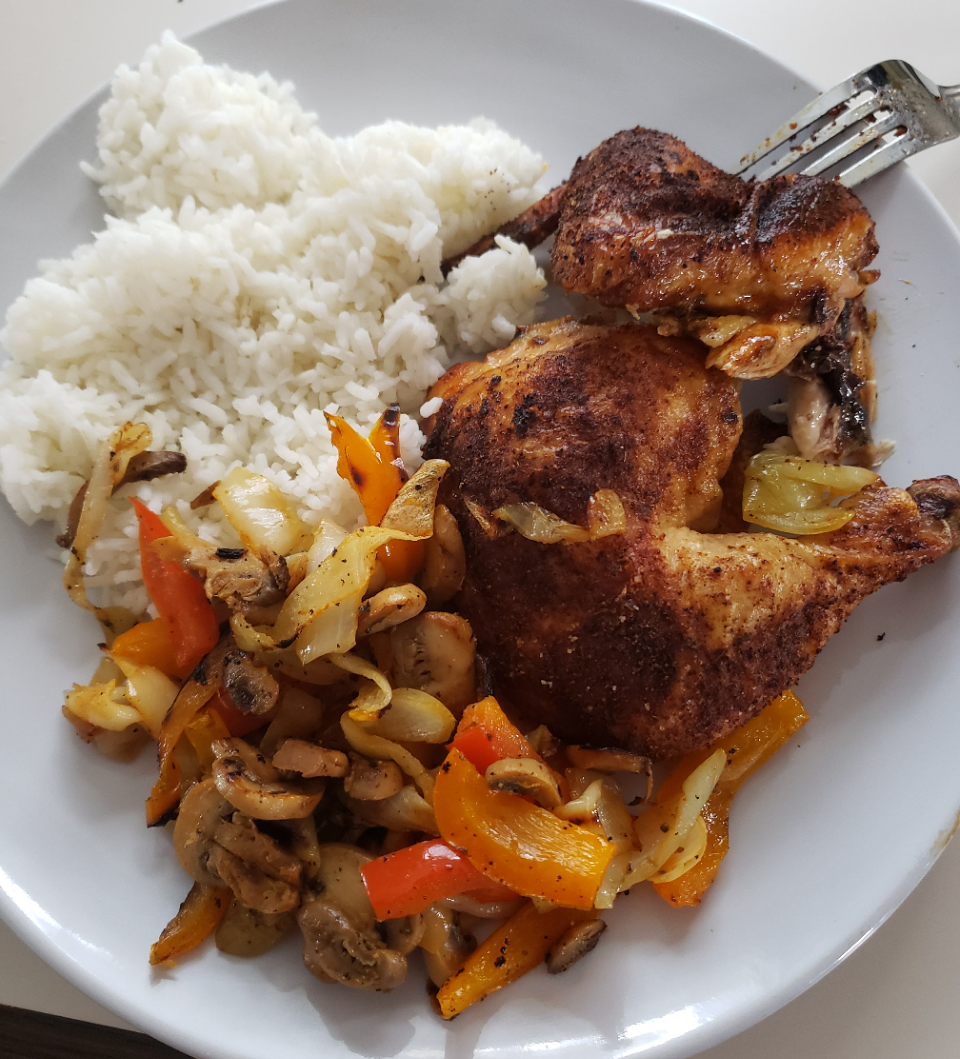 And it's as simple as that for a delicious meal! Stay tuned for future posts similar to this one.
Be sure to check out our product shop for the spices used in this post, and any other high quality spices you are looking for!
Feel free to contact us if you have any questions!